TX16S Mark II Max Radio Controller (Joshua Bardwell Edition / ELRS / M2)
---
VAT fees will be added to orders bound for EU member states.
Batteries can't be shipped separately, please purchase batteries with Radio units.
Customized products require a 40-day lead time and no refunds can be made after the order is placed.
Thanks to Joshua Bardwell for his joint edition - New JB Edition TX16S Mark II built in ExpressLRS. Featuring carbon fiber 
faceplate, purple CNC parts, with V4.0 hall gimbal, this is definitely the high performance JB radio that everyone can afford it.  
Introducing the TX16S Mark II, the ultimate open-source radio. We provide the standard TX16S Mark II radio, TX16S Mark II Max radio, TX16S Mark II Max Radio Controller (Joshua Bardwell Edition), and TX16S Mark II MAX Pro MCK Version.
Click to know more about TX16S MarkII: TX16S Mark II Radio Comparison Chart
Features

Built-in ExpressLRS Backpack
Improved internal circuity and optimized power supply.
New charge circuitry with integrated reverse-polarity protection.
Optimized charge IC now allows up to 2.2A internal USB-C charge current.
Rear mounted audio jack provided headphone output.
V4.0 Gimbal improved centering and temperature stability (Same circuitry as AG01).
Optional high/low rear grips included for improved ergonomics.
Improved S1/S2 knobs with clear centre-detents.
Improved LS/RS Sliders with smoother feel and better centre-detents.
Redesigned battery cover for improved battery access.
Retooled body shell with improved fit and finish.
Trainer socket changed to standard TRS 3.5mm socket.
Rear DIY Socket added for personalised mods.
Improved internal plastics for better longevity.
Specification
Item: TX16S Mark II Max (Joshua Bardwell Edition)
Size: 287x129x184mm
Weight: 750g (without battery)
Transmission frequency: 2.400GHz-2.480GHz
Transmitter module:  Internal ELRS (SX1280)
SD card: 256MB by default, 8GB maximum
Antenna gain: 2db (transmit power adjustable)
Working current: 400mA
Working voltage: 6.6-8.4v DC
Radio firmware: EdgeTX
Module Firmware: ExpressLRS (ELRS)
Channels: Up to 16 channels (depending on the receiver)
Display: 4.3-inch TFT full-colour touch display with a resolution of 480 * 272
Gimbal: V4.0 Hall sensor with Aluminium

fascia

Module Bay: JR compatible module bay
Upgrade method: Supports USB-C online / SD card offline upgrade
Support EdgeTX and OpenTX
EdgeTX is installed by default (Touch screen enabled). 
* Requires EdgeTX version 2.6.0 or OpenTX version 2.3.15 or later. 
ELRS versions by default
Why ELRS? Check the reviews by OscarLiang
"If you can't decide between ELRS and 4in1, I'd probably go for the ELRS version. It's going to be the major RC protocol in the near future as it's so powerful and affordable, with a wide range of tiny and inexpensive ELRS receivers available.
One reason to get the 4in1 is if you only want to use other protocols such as Frsky D8/D16, but these are kind of obsolete and slowly phasing out. Or if you are buying an external ELRS module for the radio, then it also makes sense to get the 4in1 as you don't want to have another ELRS module onboard doing nothing. "
V4.0 Hall Gimbals
Standard version with V4.0 Hall Gimbals, same chipset as the AG01, optimized hall sensor circuitry, improves center point positioning and temperature stability. Stick travel, self-centering and stick tension are now externally adjustable. 
Flat & Raised Grips Included
Both the raised and flat versions of the rear grips are included allowing you to customize the feel of your TX16s MKII right out of the box. 
Built-in dual speakers
External Module Bay
The TX16s natively supports Team Black Sheep MicroTX modules in CRSFmode with LUA scripts. Best of all the TX16s Internal 4-in-1 Multi-protocol module allows you to keep the MicroTX installed and switch between internal RF and Crossfire via software, no more module swapping. 
Easy Firmware Updates
Upgraded Design
Retooled faceplate with improved fit and finish
Improved S1/S2 knobs with center detents

4.3" IPS Color Display - The TX16s features a bright and clear 4.3-inch IPS color display for easy and convenient model setup and operation with adjustable brightness to suit all conditions.
Improved LS/RS Sliders with smoother feel and better centre-detents.
New 3.5mm Audio jack - Rear mounted audio jack minimizes RF interference from external modules and adds headphone audio feature.
Redesigned battery cover, easier to remove.
Rear DIY Socket added for personalised mods.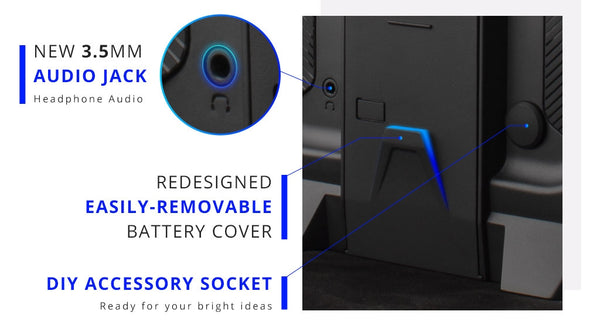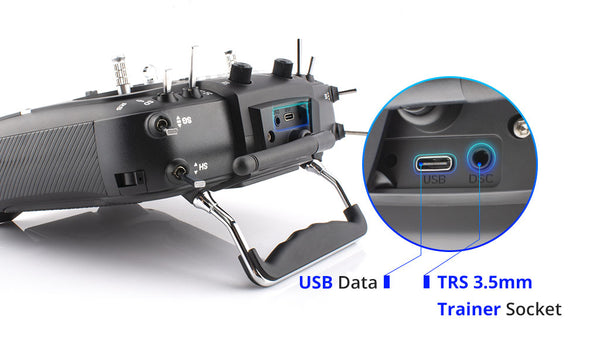 Radio Overview
How to change modes (Mode 2 to Mode 1)
How to Setup ExpressLRS on Radiomaster TX16S MKII 
More Options
Accessories
Package Includes
1 * TX16S Mark II Max Radio Controller
1 * 18650 Tray
1 * USB-C Cable
1 * Screen Protector
1 * LED Gimbal Light Mod Set (White)
1 pair of flat grips
1 pair of raised grips 

 (

installed on radio by default)

1 * TX16S Key Chain